Support the MSO
The cost of running our non-profit symphony far exceeds the revenue from tickets sales. Even with our year-round fundraising efforts, we still rely on our patrons and the community for additional support. Why not be a part of this select group and help keep classical music alive and performing in Monmouth County?
There are so many ways to help the MSO! Attend our concerts. Support our fundraisers.  Join one of our volunteer teams. Join our board of directors. Help us make a difference in the cultural life of the community.
All contributions will be listed in our concert programs.
DEDICATED DONATIONS

 You can donate "In Honor of", "In Memory of", donate to "Sponsor a Musician", or to the Goldwasser Scholarship Fund.  General donations are welcome!
For dedicated donations, please highlight and click on this link to get the form you see below.
https://monmouthsymphony.org/wp-content/uploads/2023/09/2023-2024-_Donation-Sheet-2-1.pdf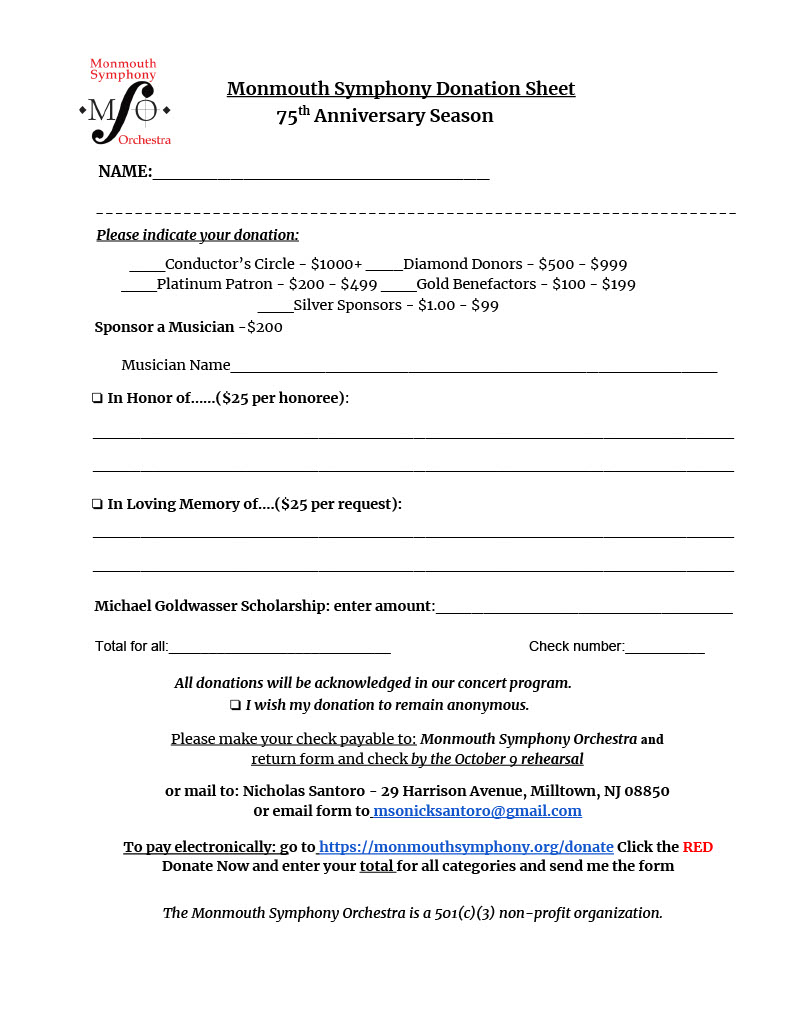 DONATE ONLINE
You can donate online at any time using our "donate now" button.  It's easy to support the MSO! Donate any amount you choose as a one time donation or as a monthly sustainer of the orchestra. All donations are tax deductible.
Donate by Mail
Mail your donation check to:
The Monmouth Symphony Orchestra
# 264
68 White St - Suite 7
Red Bank, NJ 07701
Please make checks payable to The Monmouth Symphony Orchestra
Donations with Your Ticket Purchase
The majority of our income comes from donations. When you place your ticket order, please consider adding a donation to the general fund or the scholarship fund.
Donate by Phone
Make your donation over the phone with a credit card at any time. Simply call us at 732-806-7680.