The Monmouth Symphony Orchestra honors the memory of Michael H. Goldwasser in appreciation of the more than forty years of devoted service to our musical community.  He was the founder and President of the Orchestra, a member of the violin section, an ardent teacher and an avid talent scout.  This $500 Scholarship will assist a deserving high school graduate to continue music study at an accredited institution.
Eligibility
To be eligible, an applicant must be a Monmouth County resident qualifying for June graduation from any public or private high school in Monmouth County.  The applicant intends to continue the study of music in one or more of the following areas:
Music Education
Music Performance
Music Technology
Music Therapy
Music Theory and Composition
Music Business/Management
Music History
The 2021 scholarship application will be available in Fall of 2020.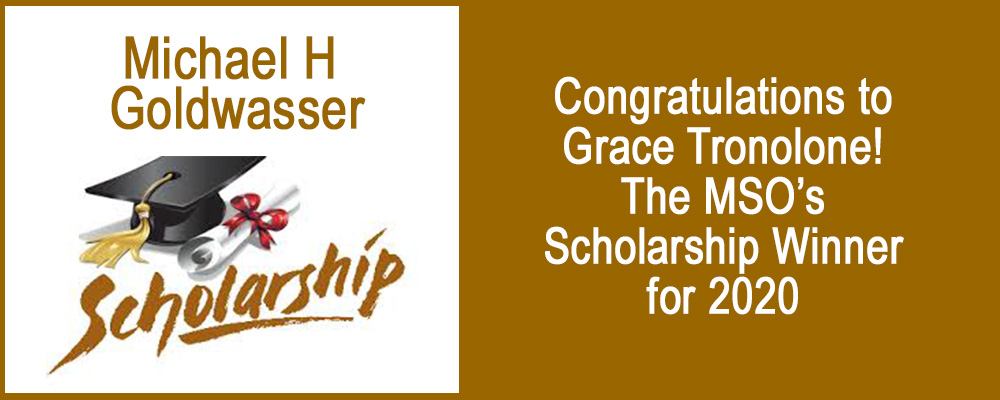 2020's scholarship winner is a graduate of Wall Township High School. Grace Tronolone will be attending The College of New Jersey as a violin performance major this fall.  Her numerous musical activities included the WTHS Orchestra (of which she was concertmaster), the school musical pit orchestra, All-Shore Orchestra, and Strings by the Sea.  Many of her performances outside of school were for residents of assisted living facilities and outdoor concerts.  Even with her busy schedule in various school clubs, Grace earned a place in the National Honor Society.
Highly recommended by her school and private teachers, Grace is noted for her maturity, musical leadership and artistry.  Other accolades include her ability to perform many styles of music with warmth and polish.
Grace's passion for music, enthusiasm for sharing her gifts and desire to give back to the community as a volunteer are just a few of the reasons she so richly deserves this award.