The Monmouth Symphony Orchestra honors the memory of Michael H. Goldwasser in appreciation of the more than forty years of devoted service to our musical community.  He was the founder and President of the Orchestra, a member of the violin section, an ardent teacher and an avid talent scout.  This $500 Scholarship will assist a deserving high school graduate to continue music study at an accredited institution.
Eligibility
To be eligible, an applicant must be a Monmouth County resident qualifying for June graduation from any public or private high school in Monmouth County.  The applicant intends to continue the study of music in one or more of the following areas:
Music Education
Music Performance
Music Technology
Music Therapy
Music Theory and Composition
Music Business/Management
Music History
The 2022 scholarship application will be available in the Spring of 2022.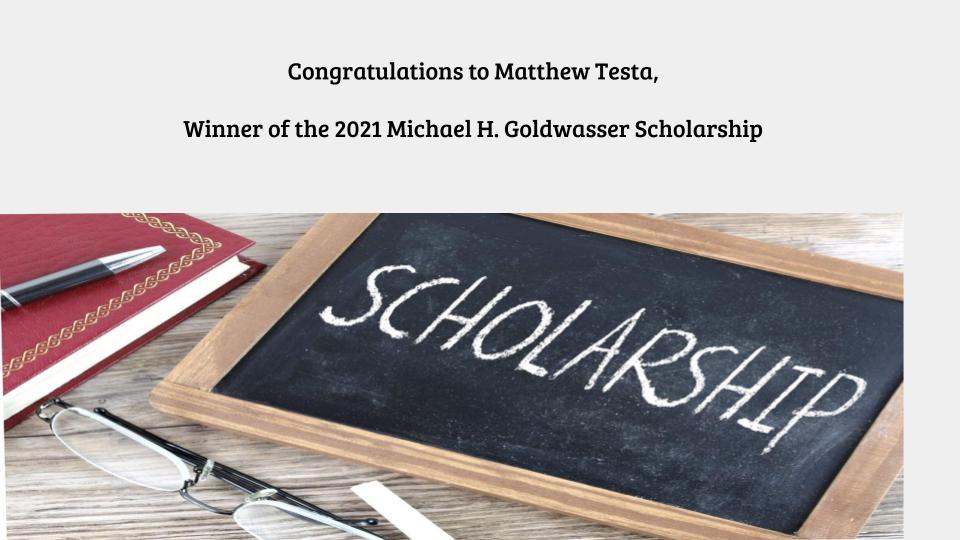 This year's scholarship winner is a graduate of Manasquan High School.  Matthew Testa will be attending Appalachian State University as a Music Therapy major this fall.  Matthew has a well rounded musical background as a saxophonist or pianist in the school's concert, jazz and marching bands.  Adding to the band experience, he participated in the Drama Club and Symphonic Choir.
Fulfilling his desire to help and serve others, Matthew belonged to the Key Club and is active with the Manasquan Antlers Lodge #18 (Elks) and the Saint Mark's CYO.   At Manasquan High School, he was elected to the National Honor Society and chosen for the Model UN for four years.
His teachers could not be more pleased to recommend Matthew not only as an outstanding musician, but a caring, responsible person who is always looking to better himself and the lives of people around him.  These qualities will serve him well as his moves forward with his studies in Music Therapy.
Congratulations, Matthew!